WOW! Lots of fun coming up at several scrappy sites!!!
June is Birthday month at
Cookin' Up Creations
...2 years old!!! Tammy is giving the DT a break with the BPS challenges this month and is issuing all the challenges herself!!! And word has it that the prizes are coming from Best Creation, SEI and Reminisce!! (Pics to come when she has the product in hand!) To be eligible for the prizes, you just have to complete a minimum of 15 challenges!!!
My Scraps and More
is having a "talent" contest! 8 fun weeks of challenges and games!
Starting June 3rd, and each Friday thereafter, a challenge will be issued. You will have until the following Thursday at midnight eastern time, to upload your challenge into the appropriate thread on the forum to continue on in the My Scraps talent search. At the end of the eight weeks, A My Scraps and More Talent star will be rewarded with a box of scrap goodies for sharing their talents! Along with the grand prize winner, someone will be randomly chosen each week among the participants of the challenge, to win a prize as well!
This is a non-elimination contest. All are invited and WELCOME to play! There is no right or wrong way to scrapbook. As long as you are recording your memories, that is all that matters!!
And this one is MY personal fave...seriously! I've participated the past 2 years...the first year I was 2nd place. Last year I guess I kinda had to drop out when my FIL passed away...just couldn't muster the mojo to continue at the best of my ability... BUT, I'm ready to rock your socks off on this one!!!! I've got the taste of victory for this one! LOL! So, you wanna know what it is??? It's the
Memorable Seasons
"Last Scrapper Standing" Contest!!!!! It begins June 20th...so get ready!!!! :)
Not a contest, but this will still be lots of fun I am sure! The girlz at Scrap-Friendzy are hosting an online crop this weekend!!!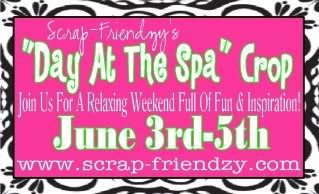 Now who DOESN'T need a day at the Spa????